Testimonials Driving Dollars For Communities
See how Frost GAP helps borrowers & causes!
We regularly get heartwarming stories of how Frost protection products make a real difference in peoples' lives. Thus, it was time to share them with a broader audience. For one year, stories garnered $500 quarterly prizes, with one year-end $10,000 grand prize towards a favorite charity or foundation!
That's a lot of change for change! See the winning member story!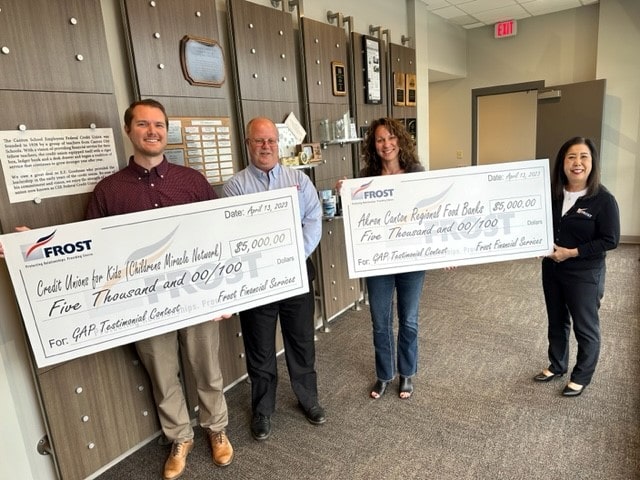 Congratulations to grand prize winner CSE Federal Credit Union! Their video shares a real-life story on how Frost GAP helped one of their borrowers when their vehicle was totaled because they hit a deer. Of course, the real winners are the recipients of the $10,000, which CSE FCU chose to donate equally to Credit Unions for Kids and the local Akron Canton Regional Foodbank!
Watch their winning testimonial video:
Keep it short (around 1 minute, TikTok-length)

Keep it passionate (have fun!)

Keep borrower names out of the video (we only need their name to locate the claim)
Record a video on one or more success stories of your GAP program.
Submit using the form.
If you are a winner, we'll reach out!
* Submitting a video gives Frost Financial Services express permission to share content (not including borrower name) in all chosen communications and outreach strategies. One video will be chosen from institution submissions each quarter, with a $500 prize awarded to a charity of winner's choice. At year-end, a $10000 prize will be awarded to the overall winner's charity of choice. Video Release Agreement (PDF).
They're not alone. Here are some more life-changing testimonials.
Drag to scroll. Hover to pause.
"A young member was thrilled to make his first vehicle purchase. Our credit union helped him secure financing, unfortunately, only two months later, his truck was totaled in a crash. The member faced an $11,000 outstanding balance on a vehicle that he no longer owned, with few or no options. Fortunately, he had purchased Frost GAP, which helped relieve the debt. He's now back in the driver's seat of a new truck!"
"Our credit union has been with Frost since January 2014, and the growth has been dramatic (GAP sales up 179%, non-interest income up $68,400 YoY). The people at Frost are always quick to respond to questions. Our loan officers use the chat tool on the VisualGAP website and have found it really beneficial."
We partnered with Frost many years ago to offer the Visual GAP/ADR products to our membership. We have found that this partnership has greatly helped our bottom line from the non-interest income as well as cover our members who have had claims! GAP policy cost is much less than local dealers. We made a great decision to partner with Frost and intend to do business with them for many years to come."
Discover how Frost can help your institution and borrowers.